Natulim (30 Strips)
Regular price
€9,00
Sale price
€7,20
Unit price
per
Sale
Sold out
View full details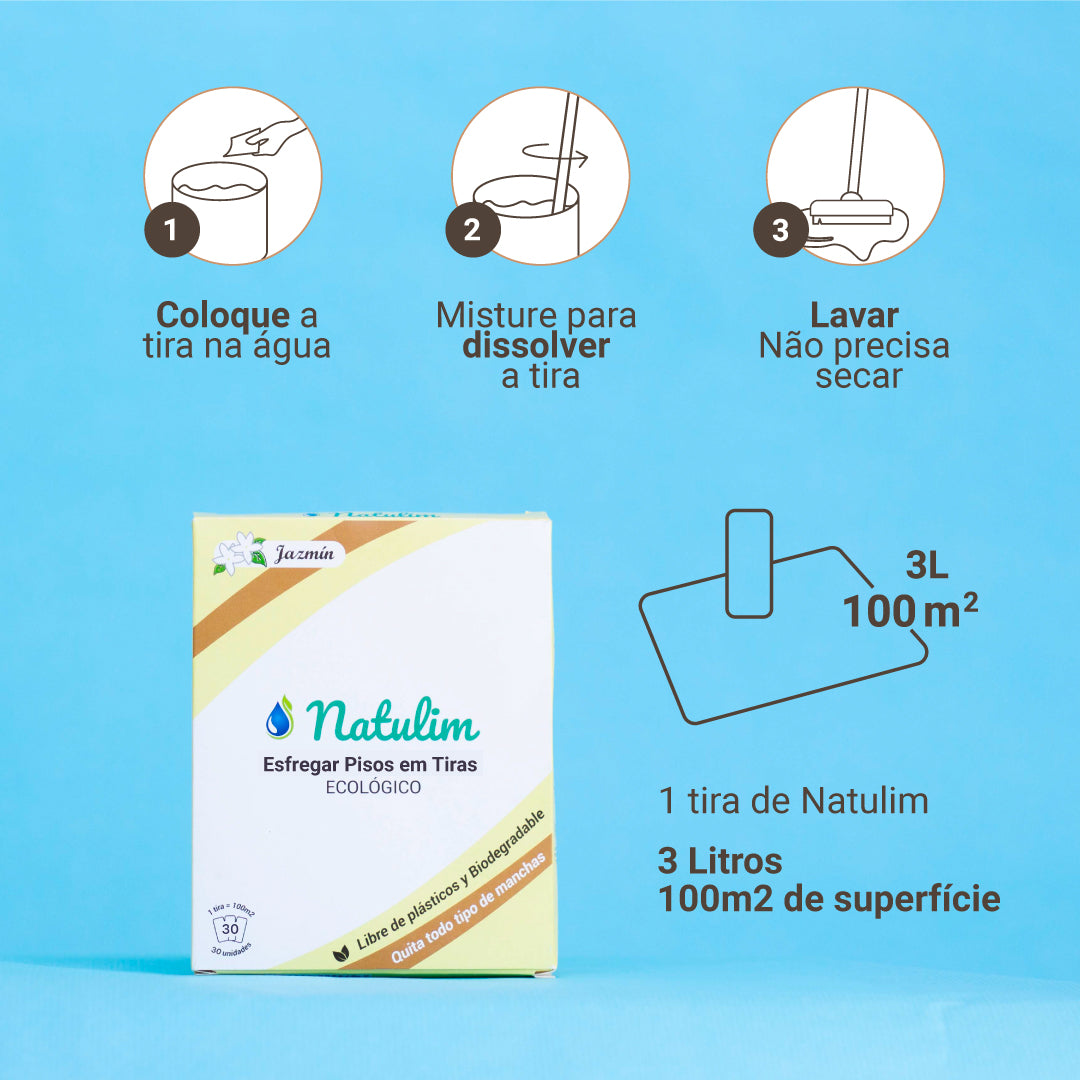 Didn't like it? We refund
For all types of surfaces (including wood and marble)
Cleans and protects the floor
Vegan and cruelty-free
No dyes or dioxane
Quick and natural drying
Dissolves 100%
Biodegradable cardboard container (Zero waste)
Right dose and no waste: Easy, practical and clean
We send by regular mail to reduce the CO2 footprint, and for your order to be delivered directly to your letterbox, so you don't need to be at home to receive your Natulim package.

No minimum order. If you're not convinced, we'll refund your money.
Easy and practical
You no longer have to measure your detergent, or end up using more than recommended/necessary. With Natulim's floor washing strips, washing your floors has never been easier!
1 strip washes up to 100m2:
1. Insert the strip into the bucket
2. Add water
3. Enjoy your clean home!
COMMON QUESTIONS
What are the ingredients in Natulim Lava-chão?

The ingredients are of

vegetable origin

:

Polyvinyl alcohol : Polyvinyl alcohol protects the sheet from oxidation. It is odorless and non-toxic. It is biodegradable and dissolves in water.
Sodium dodecyl sulfate : It is a surfactant of vegetable origin. Sodium Dodecyl Sulfate removes oils and grease. It is 99% biodegradable.
MES : It is used to keep the pH stable.
Calcium Carbonate : Improves the cleaning action of soaps and detergents.
Sodium Bicarbonate : It is a white crystalline solid compound that is soluble in water. Baking soda balances the pH of water, which helps make clothes cleaner, fresher and brighter.
Kaolinite, Starch : Form the base of the strip.
Betaine : It is an amphoteric detergent with cleaning properties.
Polyoxyethylene alcohol ether : Non-ionic surfactant, provides detergency.
Scent: Jasmine
Do you offer samples to test Natulim Strips?

Although we would love to provide samples to demonstrate how valuable our product is, we are currently unable to do so due to the size of the company. However, after purchasing the product, and if you are not satisfied, we will refund 100% of your money . No bureaucracy, and no need to return the purchased product. Cheer up!
Does the subscription have loyalty? Is it difficult to cancel?

There is no obligation to stay . Having a subscription allows us to have a better stock forecast and offer a better price. To cancel, simply send us an email, or you can do so through your customer area.
How much does shipping cost?

It's completely free for the entire country, including the islands! We want Natulim to reach everyone.

We send by regular mail to reduce our CO2 footprint, so orders are delivered within 5-10 working days. Plus, you receive your order in the mailbox, without having to worry about being at home.
More than 100,000 satisfied customers