Suitable for sensitive skin

White and colored clothing
I've been using Natulim strips for washing clothes for a few months now and I have to say that I'm delighted with the product. Washes all types of clothes, white, colored, delicate, special or...

Patricia N. - Verified Purchase

I love the strips for washing clothes and for washing the floors. Everything is very clean and has a very pleasant smell, as well as being ecological and plastic-free.

Teresa R. - Verified Purchase

It's a brutal change, I save considerable space. I don't have a lot of space, and this has made the tidying task easier. Both the clothes washing strips and the floor washing strips are incredible...

Alejandra S. - Verified Purchase
Why choose Natulim
Ultra-concentrated ecological detergent strips

Leaves clothes soft and smelling clean

Effective against stains on white and colored clothes

Plastic-Free: Compostable Packaging

Works with cold or hot water and on all types of machines, even high-efficiency ones

Lightweight, reduces fuel consumption and CO2 emissions by 94%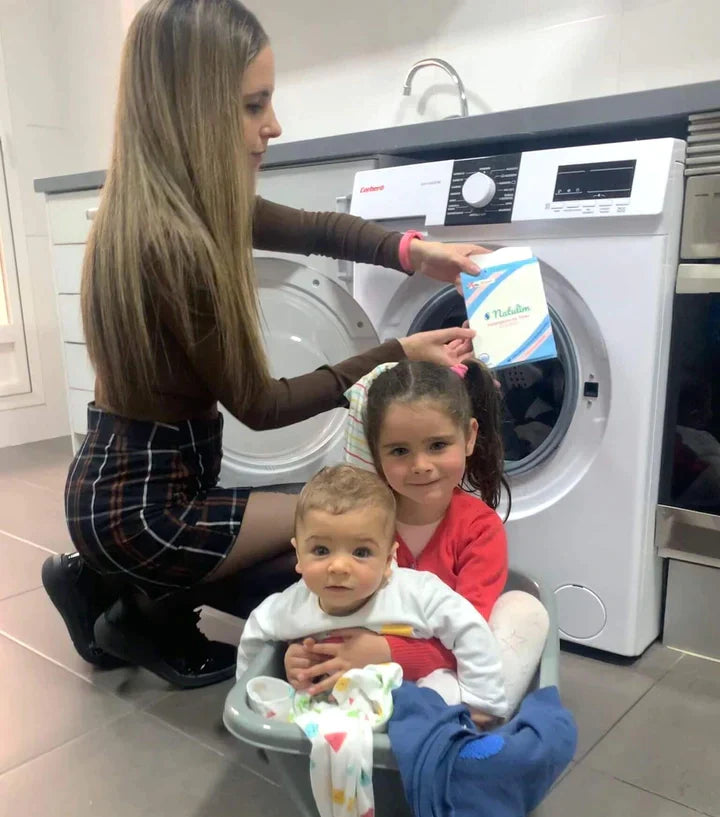 Suitable for sensitive and baby skin

No chlorine or dioxane

Hypoallergenic

Biodegradable (zero waste)

Vegan

Free from sulfates and parabens
BUY NATULIM
Didn't like it? We refund
How to use?
Step 1

1 Strip - 4kg of Clothing
2 Strips - 8kg of Clothing

Step 2

Insert the strip into the drawer or drum of the machine

Step 3

Add the clothes to the machine and start washing
One tree for every 10 sales
More than a billion plastic bottles are dumped in landfills and seas every year. With Natulim this is over!
And we also plant a tree for every 10 packages sold.
Our strips VS traditional detergents
(Comparisons are hateful, but we felt it was important to make them)
DETERGENT
LIQUID
GAIN SPACE AT HOME
EASY TO TRANSPORT
FOR SENSITIVE SKIN
EFFECTIVE WASHING
WITH NATULIM: 1 STRIPE = 1 WASH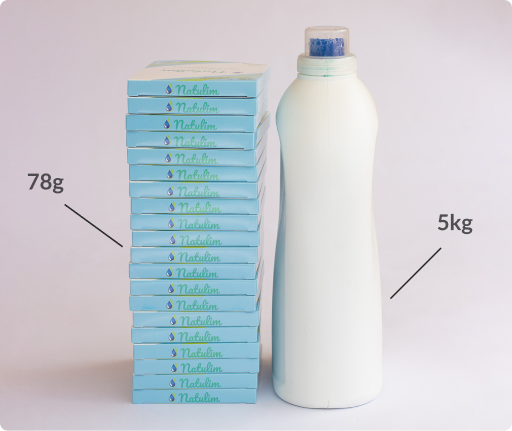 Lighter and more compact! Gain space at home.
Recover space in your closets! And say enough about the kilos of detergent and fabric softener you carry on your way back from the supermarket.
BUY NATULIM STRIPS
100% money-back guarantee
If you are not satisfied, we will refund your money without bureaucracy.
@natulim.pt (+15K followers)
Our customers are satisfied
Common questions
Is it necessary to use fabric softener?

There is no need to use fabric softener. With Natulim, clothes are soft and smell like clean, fresh clothes . But if you want the smell you are used to, you can add, as usual, a few drops without any problems.
Although we would love to provide samples to demonstrate how valuable our product is, we are currently unable to do so due to the size of the company. However, after purchasing the product and if you are not satisfied, we will refund 100% of your money without bureaucracy and without the need to return the purchased product . Cheer up!
How many Natulim strips should I use per washing machine?

De acordo com o padrão europeu de medição:

Uma tira (meia folha) para lavagens até 4KG de roupa.
Duas tiras para lavagens até 8kg de roupa

Tal como acontece com todos os detergentes, se a sua roupa estiver muito suja ou a água estiver muito dura, pode adicionar um pouco mais para complementar.
What are the ingredients in Natulim?

Natulim ingredients are of plant origin and are respectful with the skin and the environment:

Polyvinyl alcohol : Polyvinyl alcohol protects the sheet from oxidation. It is odorless and non-toxic. It is biodegradable and does not harm the environment.
Glycerol : Of vegetable origin and biodegradable. Glycerin increases effectiveness and softens.
Betaine : It is an amphoteric detergent with cleaning properties and is well tolerated by the skin.
Sodium Bicarbonate : It is a white crystalline solid compound that is soluble in water. Baking soda balances the pH of water, which helps make clothes cleaner, fresher and brighter.
Sodium Citrate : Reduces water hardness. It is the best alternative to phosphates.
Sodium dodecyl sulfate : It is a surfactant of vegetable origin. Sodium Dodecyl Sulfate removes oils and grease. It is 99% biodegradable.
Alpha Olefin Sulfonate : Ecological and easily biodegradable anionic surfactant. Gives softness to products that come into direct contact with the skin.
Ethoxy Sulfate Alcohol : Emulsifying anionic surfactant. It is also used in cosmetics because it is not very aggressive on the skin.
Kaolinite, Starch : Form the base of the strip.
Perfume : The Lavender and Floral strips contain perfume, the Natural ones do not.